Wedding Guests Outfit Ideas by Occasion
If you're anything like us, the second you get a wedding invitation, you immediately start thinking about what you're going to wear. Will it be a classic full-length gown? Something outside the box? Or something more laid back? Garbarini has plenty of wedding guest outfit options for everything from black tie affairs to outdoor weddings, no matter your style.  
Check out these wedding guest outfit ideas for black-tie, cocktail, City Hall, and mountainside weddings.  
Black-Tie
Norma Kamali V Neck Rectangle Gown with Nicholas K Mongolian Scarf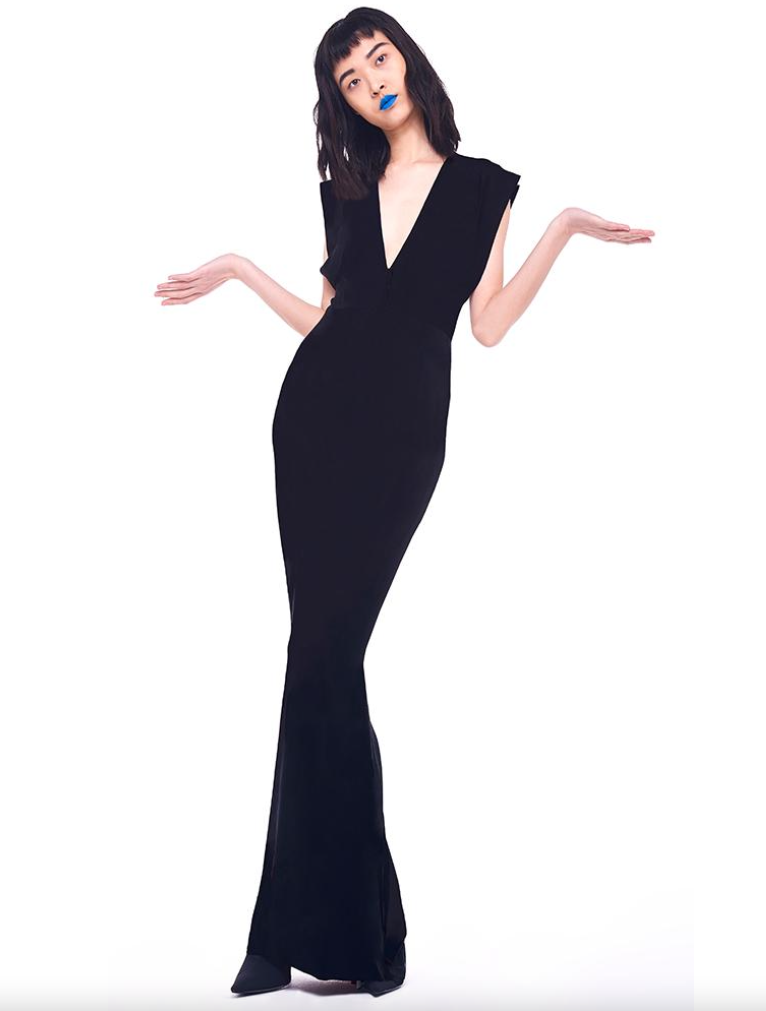 Black tie weddings typically call for formal, evening wear. For ladies, you can't go wrong with a floor-length gown.
The V Neck Rectangle Gown by Norma Kamali
is perfect for any black-tie wedding. You'll look elegant and stylish without calling away attention from the bride. Since this beauty is sleeveless with a low-cut neckline, you'll need something to throw over your shoulders in case you get cold.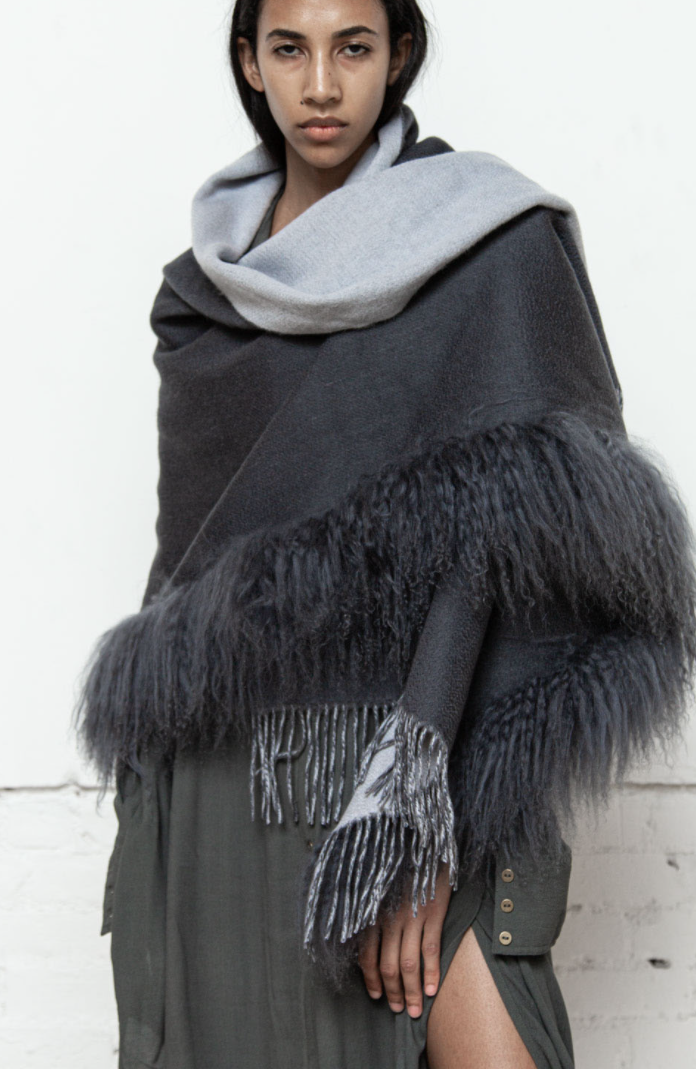 Enter
Nicholas K's Mongolian Scarf
in black. It's the perfect accompaniment to the Norma Kamali gown. This wool scarf is adorned with black fringe and has black Mongolian lamb fur. Wrap it around your body if you're extra chilly, or simply drape it over your shoulders. No matter how you wear it, this scarf is sure to add glamour and warmth to your sleeveless V-neck gown.
Cocktail Attire (with a Twist!)
Vince Satin Tie Back Pajama Blouse with Smythe Cropped Pintuck Pant
Are you tired of wearing the same old dress and heels to weddings? Try a blouse and pants instead.
Vince's Satin Tie Back Pajama Blouse
in fennel is sexy and elegant. This sleek blouse is seasonless, so you can wear it to a wedding any time of the year. Plus, it features a tie at the waist, giving you that added definition.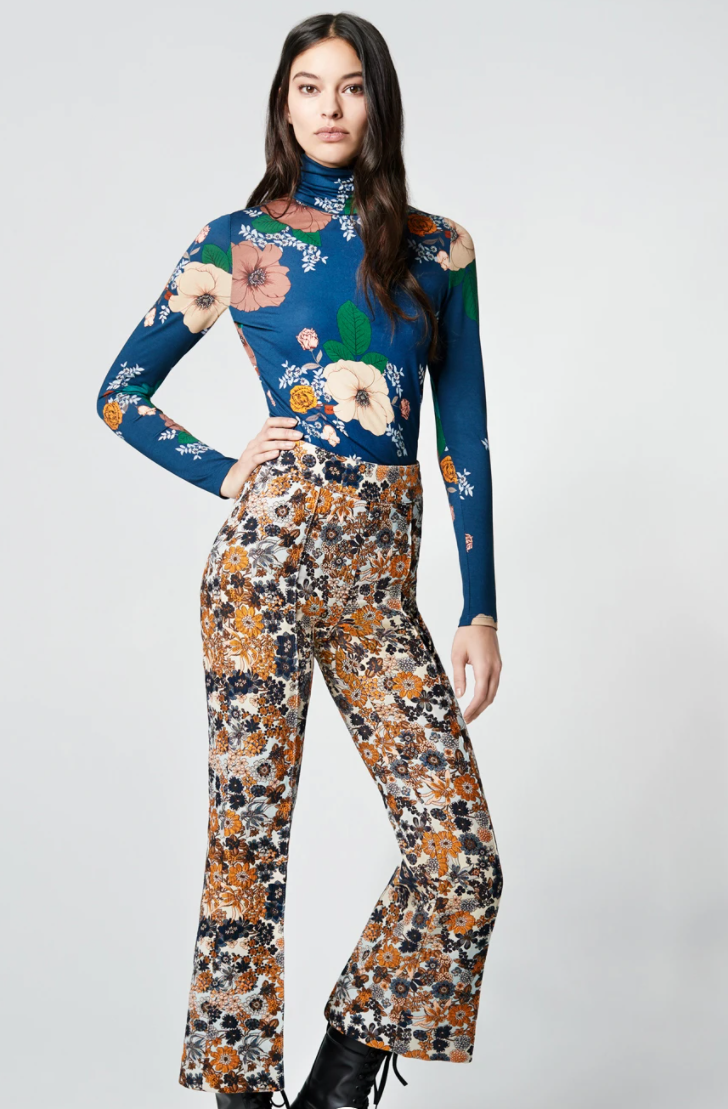 The easy draping of the Vince blouse means you can be a little playful on the bottom. That's why we suggest pairing it with
Smythe's Cropped Pintuck Pant
. These flared floral pants are sure to make a statement in any room. If the wedding you're attending is at a Boho-inspired venue, this outfit combo is a no-brainer. Or, if it's at a more traditional venue, finish the look off with strappy stilettos. 
City Hall
Theory Fitted Shirt in Stretch Silk with Marella's Patterned Skirt
Being a witness at a City Hall wedding means your outfit can be less formal. However, you'll still want to dress appropriately. A blouse and skirt combo is timeless.
Theory's classic fitted silk blouse
is tailored and polished, so you'll look and feel comfortable from the time the couple says, "I do," until the celebration's over. Make sure you size up since the shirt runs small.
If the City Hall wedding you're attending is happening in the fall, pair the Theory blouse with
Marella's patterned skirt
. The plaid details are perfect for the season and the occasion. This skirt is a flared midi, so you'll experience a ton of movement. The best part? The fabrics used to create this high-waisted skirt are made from recycled raw materials or sustainably produced fibers.
Mountain Side
Ralph Lauren Cotton Henley Long-Sleeve Dress with Chan Luu Seed Pearl Vintage Floral Bandana
What's more beautiful than a wedding on a scenic mountainside? Most likely, it's just the bride. As a guest at an outdoor mountain top wedding, you want to choose an outfit that's weather appropriate. We suggest
Ralph Lauren's Cotton Henley Long-Sleeve Dress
. While the name may sound casual, it's anything but. This look is elevated by the buttery soft suede trim at the placket and its flared skirt.
Add extra flair to your dress with
Chan Luu's Seed Pearl Vintage Floral Bandana
. This vintage-inspired print will fit right in at a laid-back mountainside wedding. If the day is windy, use the bandana as a headscarf. Or, tie it around your neck or wrist in place of wearing jewelry. The versatility of this bandana makes it an all-star wedding outfit accessory.
Don't fret when thinking about what you're going to wear to the next wedding you're invited to. At Garbarini, we have dresses, skirts, blouses, and accessories for all kinds of weddings. Shop right now on our website or call us at Garbarini today to set up an appointment with one of our professional fashion stylists at 303-333-8686 or email: elisa@garbarinishop.com.