Clothes to Transition Back into the Workplace
Are you reentering the office this summer? Maybe you're still working from home until the fall. Either way, Garbarini has the perfect clothing options to transition back into the workplace or keep you comfortable and professional while WFH. From sneakers to jeans and sheath dresses, we have something for all working women.
If you're wondering what you should wear back to work in 2021, check out these options available at Garbarini and online.
L'Agence Kenzie Blazer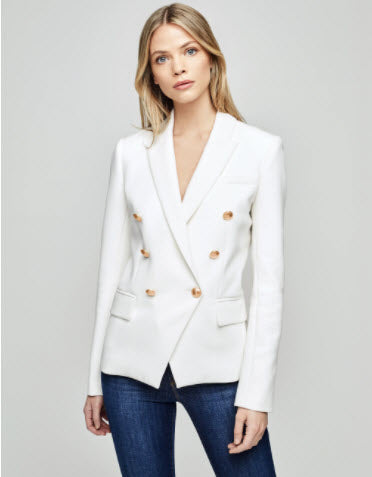 Every woman needs a perfectly tailored blazer. It can pull together any look, from the most casual to a polished pantsuit. This summer, swap the traditional black blazer for a crisp ivory one.
L'Agence's Kenzie Blazer
is double-breasted and features strong shoulders, peaked lapels, and rose gold buttons. It also tapers in at the waist, emphasizing your shape. Plus, it'll look great if you dare to venture out for post-work activities!
Frank and Eileen Wicklow Italian Chino Pant
If you're looking for a pant that is comfortable enough to wear at home and chic enough to wear to the office, we have you covered.
Frank and Eileen's Wicklow Italian Chino Pant
has plenty of stretch, making it perfect for everyday wear. You can pair it with a blouse for a more office-appropriate look, but T-shirts and tank tops work just as effortlessly. The relaxed fit and distressed hem also give you room to play around with your shoe options. Sandals, heels, and wedges all look great!
On Roger Advantage Sneaker
Who doesn't love a tennis-inspired sneaker? On Running collaborated with Roger Federer to create the
Roger Advantage, and it's the perfect sneaker for any occasion
. These sneakers are crisp and clean with a modernist style. For those who can walk to work, you'll definitely want to snag a pair of these - they're great for all day comfort! You can wear them with everything from jeans to dresses, leggings, and more. Better yet? If you're going to workout on your lunch break, you won't even have to change shoes.
AG Archway Ex-Boyfriend Slim Jean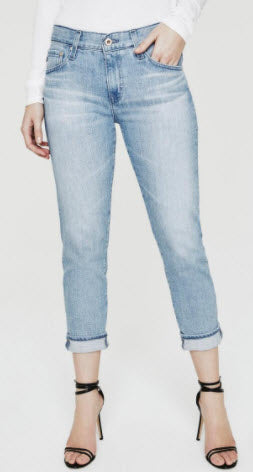 So much has changed this past year. Maybe even your office dress code... Casual Fridays may turn into casual work weeks. What do you need to make the transition? A great pair of jeans. Try
AG's Ex-Boyfriend Slim Jean
. These mid-rise relaxed jeans feature a slouchy slim fit in a cropped length and are made from super soft denim, so you'll be comfortable all day long. This jean is great for more casual work settings that you may need a "grown up" Levi style for. They look great with a rocker T-shirt, starched button-down shirt, or even a silk blouse.
Theory Cotton Hooded Cardigan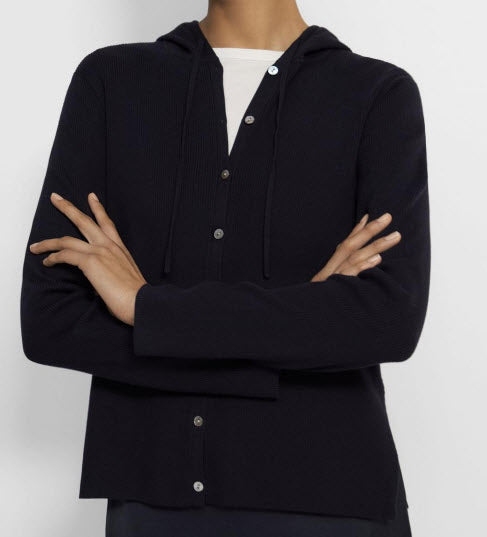 Comfort really came to the forefront of fashion in 2020, and we don't want to let it go. Elevate your comfy wear with
Theory's Cotton Hooded Cardigan in Navy
. Not only is this cardigan work-appropriate, but it's also a cross-season piece. It's the perfect option for those who have to go into an AC-blasting office or for those days when it's cold in the morning and hot in the evening. Plus, it has side slits that make for easy layering and a hood to keep it more casual looking than a traditional cardigan.
Marella Royal Sheath Dress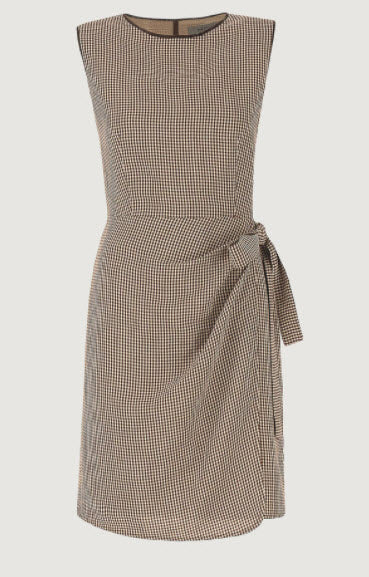 When you're ready to dress up,
Marella's Royal Sheath Dress
is your new go-to. This brown gingham printed gathered wrap front dress can take you back to the office with ease. However, it's so versatile you can also wear it to brunch or out for weekend activities. Its sleeveless silhouette would look great with a jean jacket and flats. Prepare for compliments!
Don't worry about what clothes you should wear back to the office. At Garbarini, we have the perfect outfit for every work situation, from at home to corporate. Shop right now on our website or call us at Garbarini today to set up an appointment with one of our
professional fashion stylists
at
303-333-8686
or email:
elisa@garbarinishop.com.