High-Low Dressing | How to Achieve Chic Casual Style
Get the most mileage out of your wardrobe by acing high-low dressing. What is high-low dressing? It's mixing your high-end pieces with your basic essentials to achieve a chic yet casual look. One of our favorite ways to take on the style is to pair a blazer with a flowy maxi skirt. You can also pair a silky blouse with a denim jacket. The results? Effortless style with everyday appeal.  
Here are high-low pieces you can add to your current wardrobe or use to start curating a brand-new casual chic look.
VIVA STRASS FLOWER BLAZER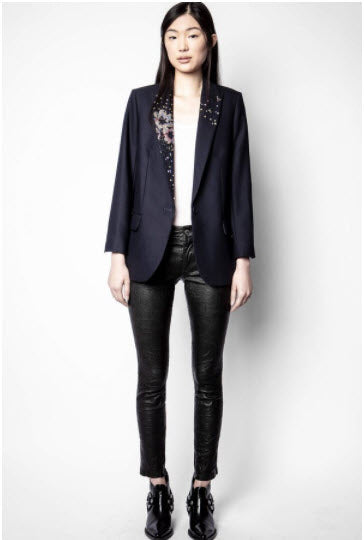 Zadig&Voltaire's Viva Strass Flower Blazer
accomplishes the rare feat of being both chic and casual. Tailored blazers are notorious for dressing up any laid-back look. However, the relaxed, slouchy fit of this navy blue suit blazer is what gives this piece the one-two punch. The rhinestone embellishments on the collar give it a playful feel. Pair it with everything from leather pants to jeans and even navy Bermuda shorts.    
SLIT LEGGING IN ECO STRETCH COTTON 
If you're looking for leggings that seamlessly transition from working remotely to heading back into the office, we have the perfect option —
Theory's Slit Legging in Eco Stretch Cotton
. These mid-rise leggings offer a streamlined look that will keep you looking polished. The front seams, invisible side zip, and slit hems elevate this look and make it office-appropriate. Plus, it's made from organic cotton, so the fabric is extra comfortable. Garbarini tip: pair it with the Zadig&Voltaire blazer.
SHORT-SLEEVE RUCHED TEE IN COTTON JERSEY
This high-low dressing list wouldn't be complete without a white T-shirt.
Theory's Short-Sleeve Ruched Tee in Cotton Jersey
is an instant everyday essential. It's easy to style and features feminine details, like a flattering round neckline and softly ruched sleeves, that can dress up your go-to pair of joggers. And it has a shirttail hem, so you don't have to worry about tucking it in. Trust us when we say you'll be wearing this T-shirt all year long.
DENIM TRUCKER JACKET
Denim on denim. Denim up top, frilly skirt down below. Denim with leggings. You have tons of options when it comes to styling
Ralph Lauren's Denim Trucker Jacket
. This slightly oversize version of the iconic trucker jacket has a relaxed fit that's meant to hit at the hip. Not to mention, it has a nice stretch and vintage appearance. You might find yourself living in this denim jacket!
TINK SATIN TUNIC
One of the easiest ways to achieve a high-low look is to incorporate a blouse.
Zadig&Voltaire's Tink Satin Tunic
is one of our favorites. This floaty tunic is made from Japanese satin and features shirred details. When worn with jeans, perform a French tuck to achieve an effortless look. Wear it under a blazer when you want to appear more polished.  
METALLIC PLAID PLEATED SKIRT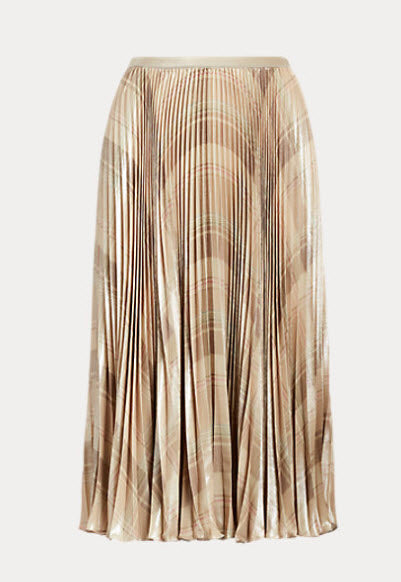 Though flowy skirts are popular among those who favor the Boho-style, they are genuinely appropriate for everyone, depending on how you style them. Take
Ralph Lauren's Metallic Plaid Pleated Skirt
, for example. When paired with a camel-colored sweater, you'll look timeless and traditional. Its sunburst-pleating technique enhances this A-line skirt's fluid drape, giving it an airy lightness as you move. Shoe-wise, you can wear it with everything from ballet flats to sky-high heels or knee-high boots.
CLIC CLAC L
No high-low outfit is complete without the perfect accessory. We love
Jerome Dreyfuss's Clic Clac L clutch
. This bag is a nod to men's coin pouches but has room for more than your spare change. The Clic Clac L can hold your keys, cash, credit cards, glasses, and more. Plus, it has a snap closure, so you don't have to worry about anything falling out in your travels.
You should adopt high-low dressing techniques if you want to get multiple uses out of your wardrobe staples. All these styles are currently on sale on our website! Limited quantities are available, so get your hands on them while you can! If you prefer to shop in-store, call us at Garbarini today to set up an appointment with one of our professional fashion stylists at 303-333-8686 or email: elisa@garbarinishop.com. We can help you get started with high-low dressing right away.