Winter Whites: How to Utilize Pieces from All Seasons
Don't wait until spring to break out your white wardrobe. Pull those pieces out now and embrace winter whites. This past year, most of our clothes stayed in the closet. So, there's no better time to utilize pieces from all seasons. At Garbarini, we have everything from winter white denim to button-ups and tees.
Make up for lost time and discover how you can wear white all year long.
CLOSED BAKER POWER STRETCH WHITE DENIM
You may be used to wearing cropped white jeans with your favorite sandals. In winter, pair them with heeled ankle boots and a sweater, and you're instantly weather appropriate. Or you can style it with a blouse and oversized blazer. We love
Closed Baker Jeans
. Their slim fit and drainpipe leg are flattering and can be tucked into a higher boot if you please.
TEELAB WHITE JERSEY BUTTON UP
White blouses are timeless no matter the season. That's why you should get your hands on one you'll never want to take off! Try
Frank & Eileen's Tee Lab Knit Button Up in White
. This top feels more like a T-shirt than your typical button up because it's made from their signature jersey material. Pair it with slacks at the office or your favorite pair of joggers at home. It's that versatile.
SMYTHE DUCHESS BLAZER IN IVORY
Do you want to try head to toe white this winter? Start with the
Smythe Duchess Blazer in Ivory
. It's impeccably tailored and looks great with white denim or pants. Plus, its asymmetrical back makes it cheeky and playful. However, the best part about it is how seamlessly it transitions from season to season.
AG JODI CROP IN WHITE
Feel like you're entering Winter Wonderland when you're wearing the AG Jodi Crop Jeans in White. The classic whitewash denim looks as luxe as it feels. They're designed in a lightweight twill blend with added stretch so you can wear them for long periods of time. In colder climates, these high-rise flared crop jeans look best with flats or sneakers.
DAYDREAMER JOHNNY CASH T-SHIRT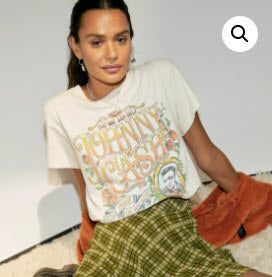 In the winter, T-shirts can be paired with blazers, cardigans, oversized jackets, puffers — you name it! Instead of opting for a plain white T, consider going graphic. This
Johnny Cash The One and Only Tour T-shirt by Daydreamer
is made from a heavier loose-knit 100% cotton jersey. You can wear it lounging around the house or when you're running errands. We also think it's perfect for that first concert you can attend. Talk about daydreaming!
DVF KARA SILK PENCIL SKIRT
When you're stuck wondering what you can pair with a white blouse or cropped sweater, consider adding a pop of seasonless color on the bottom. We love DVF's Kara Silk-Cady Pencil Skirt in the Climbing Panther print. Its medium green base means you can wear it in winter, spring, summer, or fall. And its back slit provides plenty of movement. Grab your favorite pair of heeled ankle boots to finish your look.
Forget what you heard — white after Labor Day isn't just accepted, it's preferred. If you're unsure how to incorporate white clothes into your winter wardrobe, our expert stylists can help you find pieces that work during any season. Call us at Garbarini today to set up an appointment with one of our
professional fashion stylists
at
303-333-8686
or email:
elisa@garbarinishop.com.