Fall Fashion for 2020: What's New at Garbarini
Everyone's schedule is different these days. Some of us are working from home for the remainder of the year while others have made their way back to the office. No matter your situation, Garbarini has the latest fall fashion trends and styles to keep you looking fresh and feeling cozy. From oversized sweaters to tailored blazers and versatile accessories, check out our latest items before they're gone.
Here's what's new at Garbarini for fall:
Smythe One Button Blazer in Black/White Grid
Don't leave home without Smythe's one button blazer this fall! Impeccably tailored, you can style this black and white grid designed blazer with just about anything. Throw it over a T-shirt and jeans or find the matching pants to create a power suit. Plus, it has a cut away hem to show off its matching waistcoat. After months of lounging around in sweatpants, you'll feel like a brand new woman when you snag this blazer. 
P448 John Black/Patent
Are you looking for sneakers you can wear around the house and while you're out running errands? Then you need to try the P448 John Black/Patent. These casual sneakers are made to be worn everywhere. The black on black color scheme pops thanks to its glittery shine. And if you want to add a touch of color, utilize the shoes extra pair of purple laces.
Jerome Dreyfuss Lulu XL Goatskin Bordeaux
Every new season should come with a new handbag. This year, we love Jerome Dreyfuss's Lulu XL messenger bag. Not to mention, the Bordeaux color is perfect for fall. You can wear it as a crossbody or over the shoulder. With storage and style, this bag is a fall 2020 must-have that will last well beyond the season. No wonder it's a fan favorite!
Zadig & Voltaire Zadig Used High Flash Jormi Sneakers White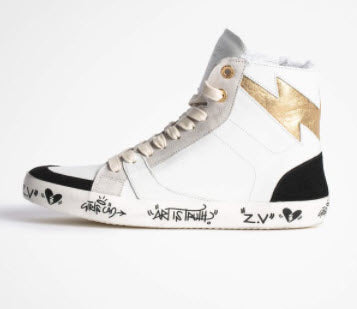 Embrace street style this fall with Zadig & Voltaire's Zadig Used High Flash Jormi Sneakers. These white leather high tops are edgy and unique. And they were designed as part of an exclusive collaboration with Venezuelan artist Jormi Graterol. With lightning bolt patches and gold metallic details, you'll feel energized as soon as you slip into them. Pair them with leather pants and a graphic tee for a fun, Rockstar look.
L'AGENCE Nina Blouse in Dark Glade/Black Lionne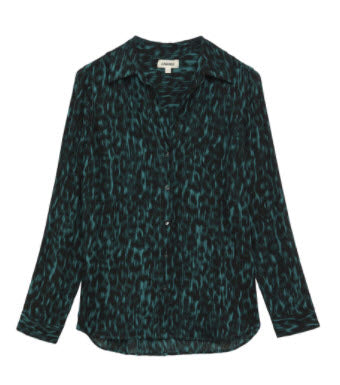 Working from home is about to get more stylish. Check out L'AGENCE's Nina Blouse in dark glade/black lionne. This classic top has a relaxed, flattering fit so you won't feel overdressed while working remotely. Or you can pair it with skinny jeans and booties to create the perfect fall activity outfit. Hitting up the pumpkin patch has never looked better.
Autumn Cashmere Popcorn Fisherman Crew in Atomic Pink
Nothing says fall like a sweater. Amp up your usual pullover with this vibrant pink option from Autumn Cashmere. The cable-knitted sweater is 100% cashmere and features popcorn detailing. It's as whimsical as it is versatile. Pair it with jeans, leather pants, or a midi skirt.
CLOSED Check Cotton Blouse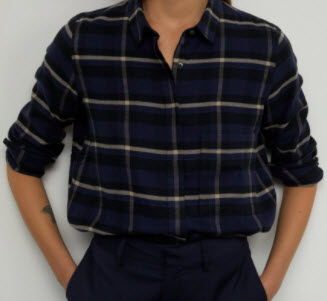 It's flannel season! The Checked Cotton Blouse from CLOSED is like butter on your skin. Soft and relaxed, you'll never want to take off this button down. Pair it with lounge pants, leggings, or jeans. This is one fall staple you don't want to miss.
Mackage Krys Hoodie in Army
You don't have to steal your partner's hoodies anymore. Mackage's Krys Hoodie in Army will keep you cozy and dry. This unisex hoodie features a rainwear lined hood, so you don't have to worry if you get caught in a light drizzle. Plus, its loose, relaxed fit is perfect for layering. Stay warm and stylish this fall.
Judith & Charles Lipari Blouse in Box Print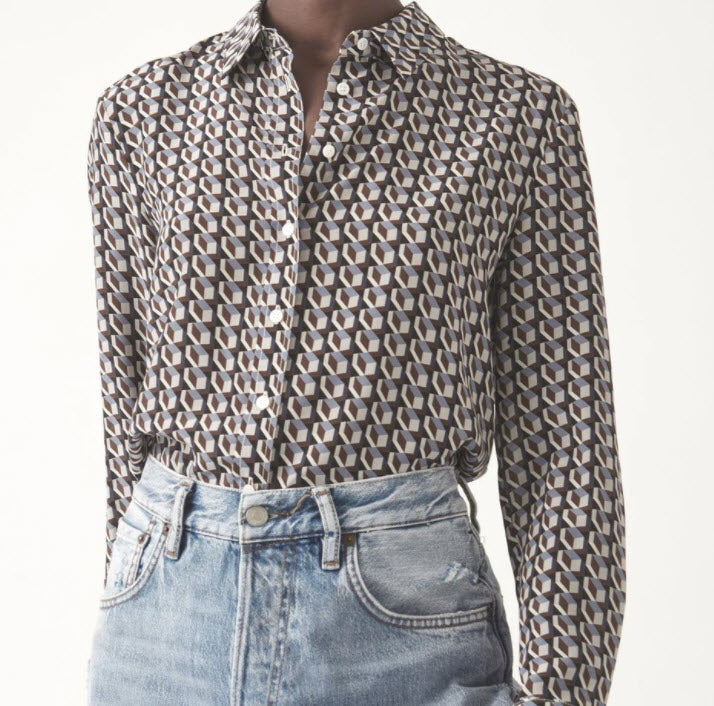 Stand out from the crowd on your next Zoom call or fall outing in Judith & Charles's Lipari Blouse. The box print button down is made of 100% silk. It'll feel smooth against your skin so you can wear it all day long. Pair it with slouchy jeans for a relaxed, modern look. Or dress it up with a pair of cigarette pants.
Pinko 1970s Long Jacquard Blazer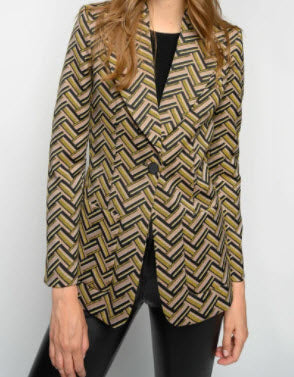 For those who like vintage-inspired pieces, check out Pinko's 1970s Long Jacquard Blazer in HL4. The retro print and earth tone color palette is giving us all the fall feels. Its fit is slightly longer, so it's great for those who want a little rear coverage. Pair it with your favorite pair of leather leggings and combat boots for a look that's modern and edgy. You'll definitely turn heads.
Alias Mae Codi
If it's been a while since you last put on a pair of heels, one look at Alias Mae's Codi shoe will change your mind. These heeled ankle booties are made of 100% leather. At Garbarini, we have the Black Burnished option, which can be worn with any outfit you desire. They're sleek, sophisticated, and will have you feeling like a model straight off the runway. Snag these while they last!
Pam & Gela Heart Print Crop Pant
We're not ready to give up leisurewear just yet. But, we are ready for fun patterns and style. Enter Pam & Gela's Heart Print Crop Pant. These mid-rise, slim-fit crop track pants are everything we need this fall. How can you say no to an elastic waistband?
Theory Cashmere Moving Rib Turtleneck Sweater
If you were looking at a fall fashion vision board, we're sure that Theory's Cashmere Moving Rib Turtleneck Sweater in soft camel would be on it. Its relaxed fit and elongated sleeves are perfect when you want to curl up with a hot cup of tea. And its turtleneck is designed with a split fold-over collar so you can wear it up or down. Plus, it's made from 100% cashmere. This is one sweater you need in your closet this fall.
Our expert stylists are ready to help curate your fall 2020 wardrobe. Call us at Garbarini today to set up an appointment with one of our
professional fashion stylists
at
303-333-8686
or email:
elisa@garbarinishop.com.