6 Best Denim Brands for Women
Denim might just be the most versatile type of clothing that exists. You can dress it up, dress it down, wear it around the house, or out on the town. There are so many cuts, styles, colors, and patterns that your options really are endless. Finding a pair of jeans that flatters your body is like hitting the jackpot.
If you're looking to buy women's jeans in Denver, look no further than Garbarini. We sell a variety of women's designer jeans that are made for every body type. Take a look at the six best denim brands for women that Garbarini has in stock.
CLOSED
Today, many shoppers are conscious of not just who is making their denim, but how they're making it. CLOSED has been implementing sustainable practices into their business since the 1980s. Known for their signature X-pockets, great designs and small details drive their high-quality collections.
Starlet White Stretched Denim
White jeans go hand in hand with summertime. Check out CLOSED's Starlet White Stretched Denim jeans. Featuring the famous X-pockets, these jeans are made in Italy. Even though you may not be able to go on vacation this year, you can imagine yourself sitting by the Mediterranean Sea when you're wearing these. Slip into a pair of slides to complete the laid-back look.
Baker Super Stretch Blue Denim
Do you want light wash jeans that feel like a second skin? We know just the solution. The Baker Super Stretch Blue Denim by CLOSED is one of our favorite summer styles. They're made of light Italian denim so you'll be able to stay in them all day long. Pair them with a white blouse for a feminine and flirty look.
J Brand
There's a reason J Brand jeans are beloved by many. They're comfortable, durable, and sustainable. As a true leader in denim, many of the J Brand styles stand the test of time and keep their shape. From staples to trendy pieces, J Brand is always innovating and stays on the pulse of the industry.
1219 Runway Super High-Rise Boot Cut in Metropole
Boot cut jeans are back in style. J Brand's 1219 Runway boot cut jeans feature a super high-rise that helps lengthen the body. And they're made with their Real-Life Rigid Comfort Stretch denim, so they're soft and easy to wear. When you pair these jeans with a simple crop top, you'll feel like an off-duty model. Just add heels!
Natasha Sky High in Paradiso
The beauty is in the detail. Just take a look at the statement-making buttons on J Brand's Natasha Sky High Skinny jeans. Placed on the fly and hips, you'll be cinched in at your waist. Bonus? They're made in J Brand's Photo Ready HD denim. Skinny jeans you'll be able to wear without complaints.
Hudson
If youthful and effortless are part of your style DNA, look no further than Hudson jeans. Their collection is so versatile; you'll be able to find denim that matches all your moods. Playful? Check. Classic? Check. Colorful? You got it. Hudson is all about women, especially young women, feeling inspired and empowered.
Barbara High-Rise Super Skinny Ankle Jean in Citron
Feel like you're walking on sunshine in Hudson's Barbara High-Rise Super Skinny Ankle Jean in Citron. The slim, contoured fit is flattering on all body types. And the color makes you stand out in any crowd. It's designed to maintain its shape with extended wear, so you don't have to worry about any sagging. Wear while drinking lemonade!
Barbara High Waisted Skinny in Gambit 2
You can never have too many pairs of skinny jeans. Why not add Hudson's Barbara High Waisted Skinny in Gambit 2 to your mix? Cropped at the ankle, these jeans allow you to wear them with sneakers, slides, or strappy sandals. Not to mention, they're made from soft, super stretch denim. They'll be your new go-to pair of skinnies!
AG
Adriano Goldschmied isn't called "the Godfather of Denim" for nothing. For decades, AG Jeans has been a premium denim leader, offering products that feature superior craftsmanship, excellent fit, and innovative fabric. And they're leading the sustainable manufacturing movement with eco-minded processes. No big deal!
The Ex-Boyfriend Slim in 16 Year Habitual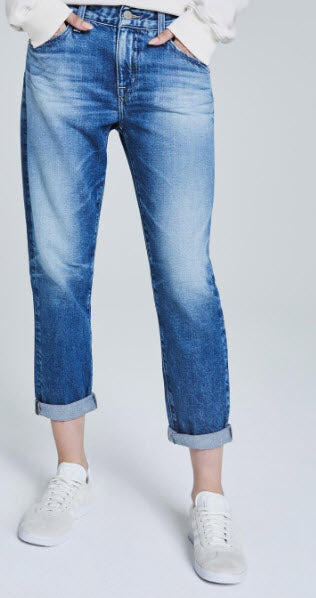 Texting your ex-boyfriend? Bad. Wearing AG's Ex-Boyfriend Slim Jean? Good—very good. These jeans are made with an authentic, 16-year vintage mid-blue denim wash giving it a genuine vintage feel, just like that relationship. Plus, they're high waisted and have a slouchy fit. Perfect for lazy days of summer lounging around.
Sophia Ankle Jean in 12 Year Wash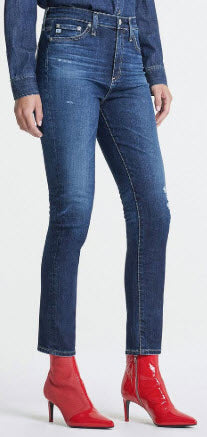 If you want a high-waisted skinny jean that you can repeatedly wear, check out AG's The Sophia Ankle. They're made in Japanese comfort stretch so you won't be uncomfortable wearing them for long stretches of time. The best part? You can wear them to the office or out with your friends. This is one pair of denim that belongs in every woman's closet.
Frame
Frame denim has been beloved by those in the fashion industry for years. When you wear Frame jeans, you'll feel just like the off-duty models who adore the brand. With inspiration drawn from France in the 1970s, Frame has perfected the casual, chic look every woman strives to achieve.
Le High Frame Augusta
Are you tired of boot cut and skinny jeans? Good news! Flared jeans are back and better than ever. Frame's Le High Waist Flare Leg Jeans are the perfect pair to keep you modern and on trend. The high waist balances the flare of the leg, and the hue is weathered to perfection. Just like all of their other jeans, the fabric is exceptional, and the fit is just right.
Le Skinny De Jeanne in Lloyd
Mid-rise skinny jeans are a classic wardrobe essential. Enter Frame's Le Skinny De Jeanne in Lloyd. These jeans are versatile and can be worn with everything from your favorite printed button-down to a plain tee. Pair them with heeled booties or a flat. You'll be able to go from day to night seamlessly.
L'AGENCE
Luxury fabrics and modern designs are the staples of L'AGENCE. This California-based label has a number of A-List fans, and there's no question why. Their denim not only looks great, but it makes you feel great and lasts for years. You don't have to worry about replacing your denim every season when you invest in L'AGENCE.
Oriana Jean in Blanc
Finding flattering white jeans can be tough. Not with L'AGENCE's Oriana Jean in Blanc. These high-rise straight leg jeans are crafted in premium high-recovery stretch denim. And they feature a contoured waistband that keeps you smooth and slim. Their classic look will have you breaking them out in the winter, too!
Bell Jean in Phoenix
Do you love vintage-inspired clothing? Do you have somewhat of a Bohemian style? L'AGENCE's Bell High Rise Flares are perfect for you. These bell bottom jeans will transport you straight into the 1970s. But fear not. The dark wash modernizes them so you'll look more chic and less costumey.
Are you looking to update your current denim with fresh new options? Our expert stylists can help you find jeans that compliment your body and style. Call us at Garbarini today to set up an appointment with one of our stylists
303-333-8686
or email:
elisa@garbarinishop.com.