Elevated Loungewear for Women
Have you grown accustomed to wearing loungewear and don't want to give it up just yet? Garbarini has you covered. Our doors are open once again, and we have plenty of stylish loungewear options that you can wear at home or out on the streets. After all, being comfortable doesn't have to mean sweatpants. Check out our selection of elevated loungewear, available in limited quantities.
Ocelot Cropped Pant
It's time to put away your plain black leggings. Instead, opt for this pair of slim fit ocelot cropped pants from Pam & Gela. These track pants have a mid-rise and elastic waistband, keeping you comfortable all day long. The yellow stripe down the side elongates your legs and adds an extra pop of color. Pair it with the matching track jacket to complete the set.
LAB617 Triple Fleece
Think beyond sweatsuits when it comes to women's loungewear. This long fleece skirt from Frank & Eileen not only packs style, but it's versatile as well. You can wear it at home with slippers or dress it up with heels when you venture out. It's made of 100% cotton fleece, so it feels just like your favorite worn-in T-shirt. And its snug fit compliments every body type.
LABEILEENEJ Essential Jersey
If you've been dreaming of a button up shirt that looks polished but is comfortable enough to fall asleep in, look no further. Frank & Eileen took your favorite style and recreated it in their Vintage Jersey. This updated wardrobe staple is made of 100% cotton and might just be the most comfortable shirt you own. Pair it with jeans, slacks, or a pair of leggings. No matter how you style it, you're never going to want to take it off!
Denim Stripe Pant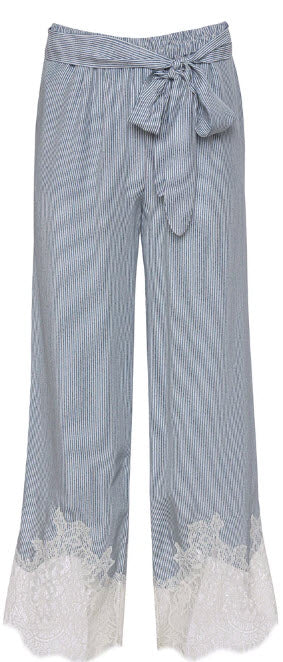 Flared pants have made a huge come back. Ease back into this style with Gold Hawking's Denim Stripe Pant. The matching belt gives these pants a natural, relaxed vibe. And the lace detail on the cuff of the pants offers a delicate, feminine touch. You can wear these pants with a solid top, the matching off the shoulder top, or a silk camisole.
Long Kaftan with Overlay Detail Marine Queen
We know you've been longing to go on your next vacation. Transport yourself to the beach with this long kaftan from CAMILLA. Slinking into this silk maxi will make you feel like you're lounging poolside at a luxurious resort. Its Marine Queen underwater inspired blue print flows effortlessly. And the glam doesn't stop there! It's adorned with metallic gold chains at the shoulders, an overlay cape, and glimmering hand placed crystals.
Ultracor Nautilus Ultra High-Waist Athletic Leggings
Invest in a pair of leggings that look great on your couch or at the gym. Ultracor's Nautilus leggings come in an abstract print that steps up your fitness fashion. They have an ultra high-waist and keep everything sculpted and in place. Pull them up and feel like you're wearing a second skin! You'll feel comfortable doing cardio, going to Barre, or walking around the house.
Cloud Sneakers
Feel like you're walking on air with these Cloud sneakers. Its breathable mesh combined with Zero-Gravity foam and CloudTec® give it one of the best step-in feels ever. This running shoe was designed to be light and fully-cushioned so that you can wear them all day long. Don't believe us? Olympians and runway models alike have donned these stylish sneaks on the podium and the runway.
Athletic Tab 3 Pack Socks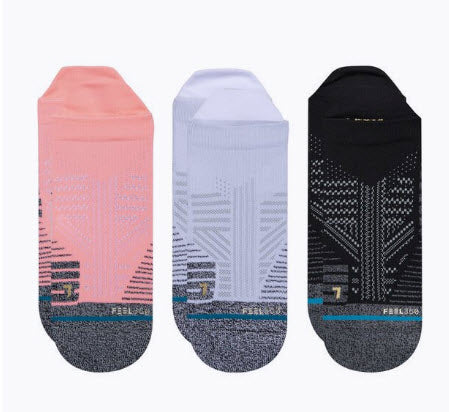 Keep your feet warm and protected while walking around the house. Stance's Athletic Tab socks are made with Infiknit™ technology, which never rips or tears. You don't have to worry about those pesky holes in your toes! When you're ready to hit the gym or go for a run, the performance mesh keeps you cool and allows your feet to breathe. At Garbarini, we have the Pink 3 Pack available, which features a pink, gray, and black option.
The Police North American Tour Weekend Tee
Daydreamer's latest addition to their graphic tee selection will have you comfortable with every breath you take. This 100% cotton tee features none other than The Police on their 1983 North American Tour. If you miss rocking out at concerts, throw on this oversized T-shirt and crank up a Police-inspired Spotify playlist. Tuck the top into a pair of joggers and get ready to dance around your living room. It also looks great with jeans when you need to run an errand.
Blanc Noir Yolo Contrast Stitch Hoodie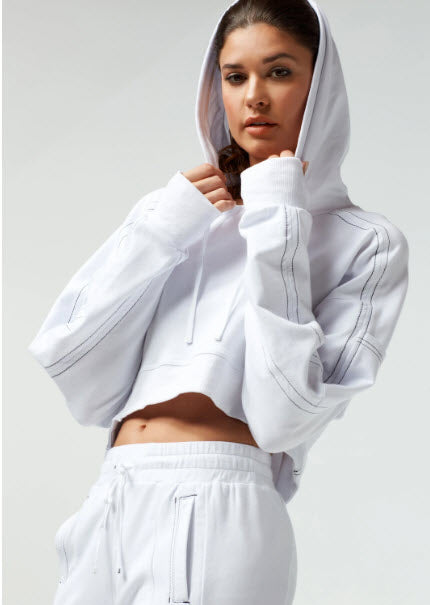 This list would not be complete without a cropped hoodie. Blanc Noir's Yolo Contrast Stitch Hoodie in white is crisp and chic. In addition to being stylish, it's also functional thanks to its drawcord at the neck and thumbholes. Pair it with the matching joggers or high waist biker shorts. Effortlessly cool.
Even when you're dressing comfortably, you don't have to compromise on style. Our
expert stylists
can help you find loungewear pieces that elevate your wardrobe and keep you looking polished and put together. Call us at Garbarini today to set up an appointment with one of our stylists
303-333-8686
or email:
elisa@garbarinishop.com.