7 Fashion Week Trends You'll Be Wearing This Spring
The runways were bursting with style at this year's Fashion Week. From the bright colors on the Valentino runway to the vintage prints at Christopher Kane, we've been planning out how we can incorporate some of the 2020 spring trends into our closets. Aside from the clothes and designers, sustainability was another star of the runway. Take a look at Garbarini's latest arrivals and see which pieces fit into your spring wardrobe!
Colored Denim
It's not time to say goodbye to skinny jeans just yet. To give your skinnies a 2020 update, opt for a high-waisted and brightly colored pair like the Jbrand Lillie High Rise Cropped Skinny Jean in Pink Coral. The classic jeans and tee look gets a colorful twist when paired with a solid neutral top. You can also pair the jeans with a sheer blouse for a flirty, feminine look. Thanks to the cropped cut, you can wear these jeans with any shoe!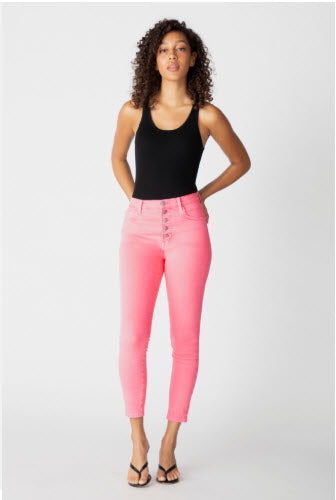 Maxi Sheath
From a day at the beach to an evening out, the Madsen Maxi Dress is one you'll want to live in this spring and summer. Drawing inspiration from the maxi sheaths seen on Fashion Week runways, this shirt dress is dramatic and feminine. The relaxed fit and tie at the waist make it flattering on any body shape. You'll reach for this dress during those late spring and early summer days where the weather goes from hot to cold in the blink of an eye. The gauzy texture and long sleeves are just the right amount of cover-up to keep you looking chic.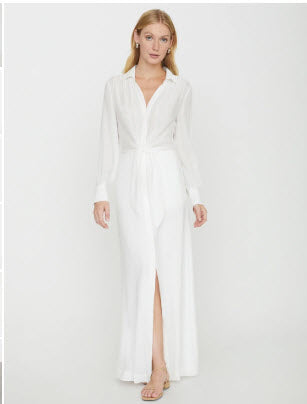 Chunky Sneakers
Your feet still get a break in 2020. Chunky soled sneakers are favorites of celebrities and models alike. Try Zadig&Voltaire's Future Sneakers. The white leather, printed laces, and hints of pink make these shoes less dad and more downtown. Dress them up or down! These sneakers can be worn with joggers or a dress.
Colored Leather
You don't have to wait until fall to whip out your leather. Invest in a colored leather jacket, and you'll be on season and in style. The Pagoda Leather Moto Jacket is perfect for spring thanks to its camel coloring. Though it has a classic asymmetrical design, the shoulder detail takes it to another level. Pair with jeans and a tee or slacks and blouse.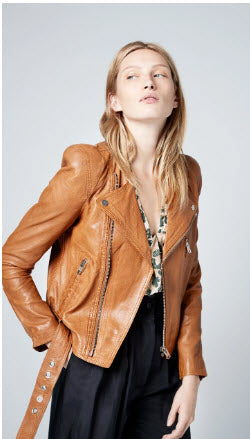 Retro Prints
No, you're not watching "That 70's Show" reruns. Retro prints inspired by the 60s and 70s were all over the spring runways. From abstract to psychedelic, there are plenty of options to choose from this year. We love DVF's Moira Stretch-Georgette Midi Wrap Dress. The geographic tiles are modest enough for those who are afraid to dive right into the trend. This sleeveless midi dress moves fluidly and feels soft against the skin.
Crossbody Bags
Throw it over your shoulder and go. Crossbody bags have been beloved for a long time thanks to their ease of use. Modernize your handbag with the Charly XS baguette bag. This multifunctional bag has an adjustable chain and leather shoulder strap that allows you to wear it in various ways. Plus, there's enough room to fit your phone, wallet, and keys. Its yellow color is also right on trend.
Straight Leg Denim
If you don't already own a pair of cropped, straight leg jeans, you're missing out! The Starlet Soft Stretch Blue Denim is made of very soft denim and features flattering x-pockets. And, it checks the boxes off two trends. The denim is woven by Candiani, one of the most sustainable denim weaving mills in the world. Not only will you look good wearing these jeans, but you'll also feel good, too!
Are you ready to update your spring 2020 look? Our expert stylists can help you find on trend pieces you'll keep going back to all season long. Call us at Garbarini today to set up an appointment with one of our stylists 303-333-8686 or email: elisa@garbarinishop.com.