Winter Fashion Forecast by Garbarini
Let the Feathers Fly!
Feathers are not in short order this winter season here at Garbarini. We love the look of wispy or fuzzy feathers as an accent piece to any fashion aesthetic. A feather bolero layered over a
rock and roll t-shirt
or an evening gown is sure to make a statement and a great way to jazz up your winter fashion. Our favorite feather accessory piece is from Bubish.
The Bubish Manhattan Feather Jacket in Green is a Garbarini must when it comes to a must have fashion piece with feathers and mass appeal! This sage green is so iconic an unique that it tops off any color of denim while also accenting a beautiful metallic cocktail dress for holiday.
Ankle Skimming Silhouettes
Skirts that stop just above the ankle are the best way to dress up while also dressing down. Want to look nice for some holiday related events but not out of place? Go for an ankle length skirt or dress! At Garbarini we have pieces from Generation Love like a silk slip skirt in a midi length to fulfill your fashion dreams.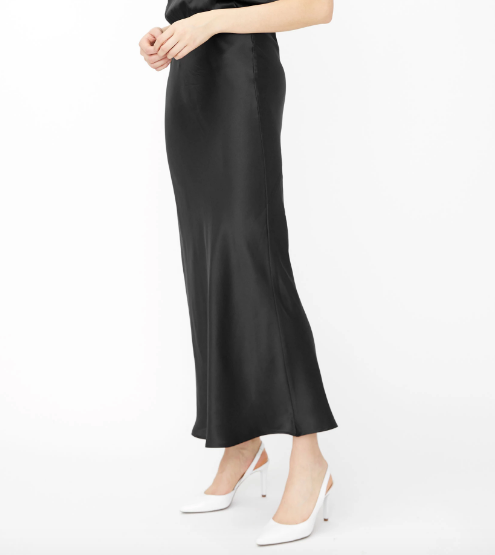 Silk slip skirts are the must have fashion staple of the season here at Garbarini. Style with a chunky sweater or your favorite t-shirt as an excuse to look a little more polished. You can also style this skirt with a
sequin top
for your holiday party! Any which way we will help you style it while you're here at Garbarini and help you to see the multitude of ways an ankle length skirt can be a staple for winter fashion.
Beige Babes
Want a transitional color that accents any skin tone?! Beige is the new black and you heard it at Garbarini first. We have lots of this creamy beautiful tone from plenty of our vendors but one of our personal favorites is the Cashmere Scarf by Nicholas K. This piece is to die for!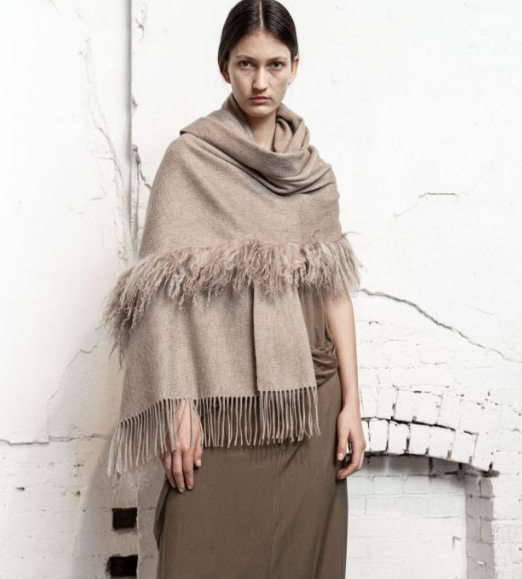 Soft as butter, finished with Mongolian sheep's wool and detailed with fringe you simply cannot go wrong with a beige scarf that transitions any type of style. Boho to chic, a beige fur wrap scarf is simply perfect - are you the girl thats always cold?! Well worry no more, you are warm and cozy while being stylish and on trend. What a great way to accessorize your winter fashion favorites?!
Party Ready Earrings
Its official, statement earrings are back and they aren't far off of what your mother would wear with her crimped hair in the 1980's. Lucky for us however the weight of the earrings has changed and we can wear loud, eye catching pieces without the pain later. Our favorite pair of party earrings at Garbarini is the Landry earrings made by Jenny Bird.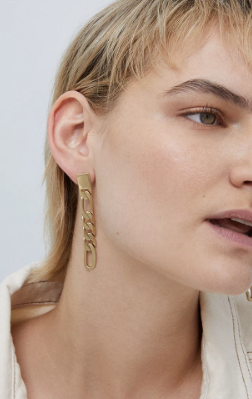 Don't get us wrong, we love the colorful and even glitter adorned pairs that are gracing fashion runways and street style but prefer a pair of earrings that we can wear with any outfit and at anytime - from desk to dinner. The chain links in jewelry are a major fashion trend, most likely thanks to Versace and Chanel that have always adored their muses with the style. We love the relaxed appeal of the link earring that also nods to the refinement of fashions past.
Sparkle Shoes
Metallic
shoes
have always been a must but this season they are taken to new levels! Jeffrey Campbell makes Garbarini's favorite statement sparkle heel. The Lindsay is a rhinestone adorned strappy heel that is a must have for any woman that likes to make a statement. Paired with a velvet jumpsuit or even a pair of jeans these heels are to die for. Winter fashion will never be boring with the pizazz of a sequin or sparkly metallic shoe.
All your winter fashion must haves are at Garbarini. Our expert stylists can help expand on your personal style while adding in timeless and trendy pieces to keep you updated and stylish. Call us at Garbarini today to set up an appointment with one of our stylists (303) 333-8686.