Fall Must Haves at Garbarini
Fall at Garbarini is full of prints, layers, and all black everything. It's always fun to add a pop of color in your fall wardrobe, but classic black is always in style. This collection of our fall must haves is centered around our favorite color: black. You'll fall in love with this selection of pieces to turn your fall wardrobe into a timeless and chic look. 
Black is a color that people come to time and time again for its versatility, simplicity, and ease. A wardrobe centered around black and the different shades is one that can go from day to night, and season to season effortlessly. 
We love these pieces that can create a look all their own, and be added to any outfit for that "wow factor" that will turn heads and fuel you with confidence.
All of these piece are available in our storefront to try on and waltz around in. Stop in to check out our full selection of fall must haves at Garbarini.
ZADIG & VOLTAIRE Empress Clous Boots
Leather boots are always in style, and this fall must have is one you can wear year after year. The Zadig and Voltaire Empress Clous Boots are fitted with studs that bring together class and flash. The hint of metallic of the studs creates a seamless and edgy look paired with a mid-calf black leather boot. 
DAYDREAMER TUPAC SIGNATURE WEEKEND TEE
This is the perfect loose and comfy weekend tee that you'll wear everywhere and always get compliments on. Beyond his great success and timeless wisdom, Tupac was also an icon of freedom and choice.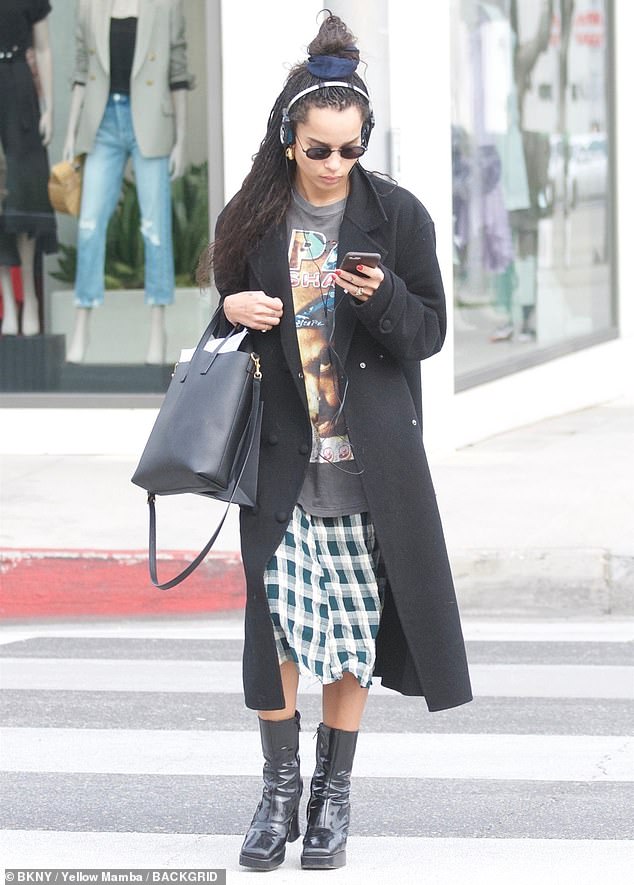 This graphic tee can be worn with everything from jeans to leather pants depending on the vibe you're going for. Either way, you're sure to feel like a badass while looking like you're totally classy.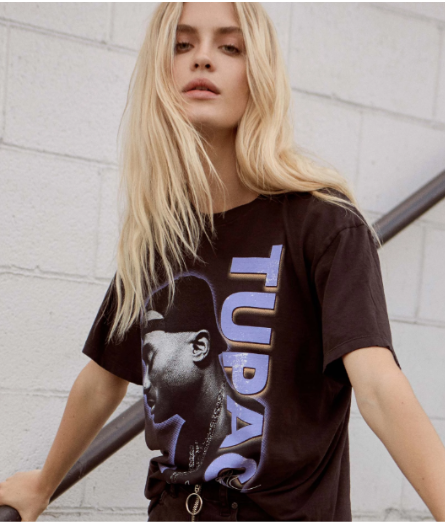 PINKO CROCODILE PRINT TROUSERS
Leather pants are always in style, no matter who you ask. These faux leather polyester trousers have a crocodile print with a flatter cut that adds major spice to any look. These pants are a major fall must have.
[caption id="attachment_6734" align="alignnone" width="680"]
Lucy Williams, FashionMeNow[/caption]
If you want to add some sass to your boring black pants, these are the answer. And who doesn't love animal print?! The must have fall looks are all about color, texture, and print, and these pants are checking all the boxes.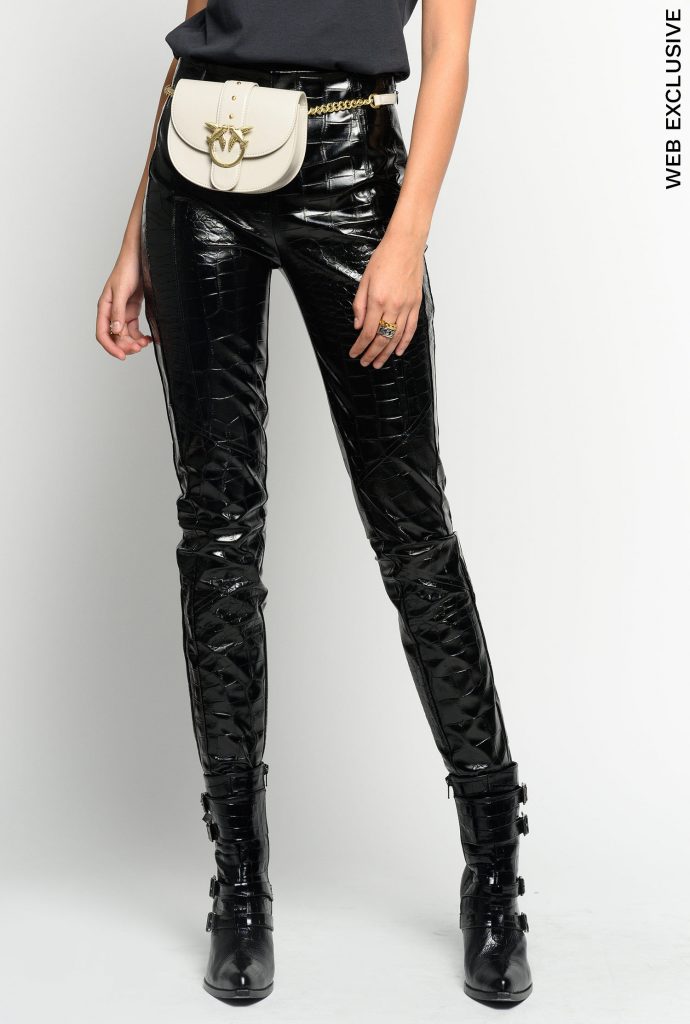 SMYTHE x JENNY BIRD Collab Blazer
This is a cross between a blazer fit for a boardroom and a blazer fit for a beautiful bar. When you have to go from a meeting to a meet up, this sassy take on the traditional women's blazer is a fall must have.
The hardware on this jacket is BOTH a necklace and a closure for the blazer and can be ordered in either rhodium or oxidized gold. The closure can be worn three different ways which is outlined on its hang tag. Yes, please!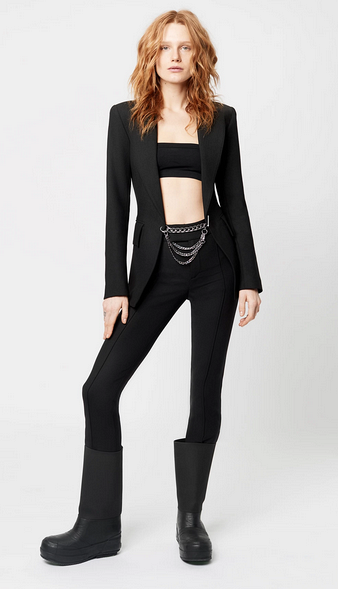 DIANE VON FURSTENBERG CASPIAN KNIT JACQUARD FLARE PANTS
When it comes to fall must have pants, so much can get lost in the color of solid black. While this selection of our favorite fall must haves primarily  is centered around black - a pop of color here and there is essential. And a great way to add some much need dimension to a fall wardrobe. Not to mention, pattern creates depth to a fabric and allows you to incorporate different textures (and other patterns) to modernize a look.
[caption id="attachment_6733" align="alignnone" width="705"]
info@imaxtree.com[/caption]
These print pants are a great way to add a flash of color to any outfit and draw attention to the legs. DVF always hits a homerun with her prints and this is definitely one of our favorites. 
CLOSED WOOL MIX BALE DOUBLEFACE COAT
Wool is a fall must have that is completely non-negotiable. What we love about this gorgeous wool coat is that it has a relaxed fit made with a blend of Italina cashmere.
We love to style any sophisticated look with a classic coat that will not only keep you warm; but it will keep you looking chic and ready for anything. Even if you only have one winter coat, this is the fall must have. 
VINCE CAMUTO KERVANA POINT-TOE BOOT
What's the perfect shoe that is also a fall must have? This VINCE CAMUTO point-toe snake print leather embossed boot, of course. Step out feel like a boss in every outfit with this shoe on your feet. These boots ad a great "pop" to any outfit that needs some personality.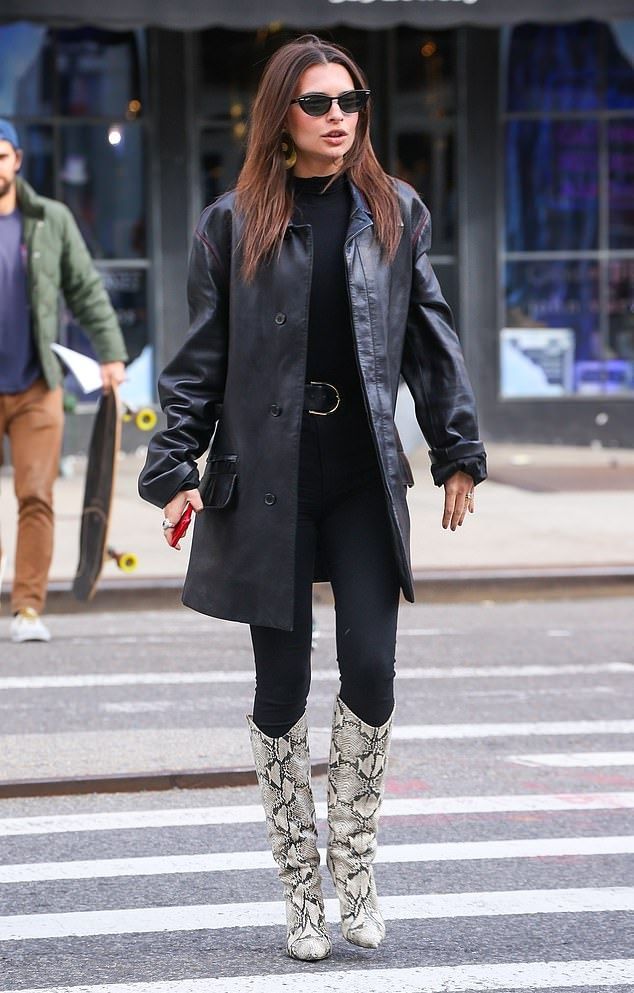 Fan of wearing all black but want to look a little vamped up?! Throw on a snakeskin knee high! Youre instantly cool and you look like you have an edgy but elegant look. Boots are a fall must have and when you want to update your wardrobe with an easy trend that will carry its weight for years to come.
All your fall must haves are at Garbarini. Our expert stylists can help you discover your personal style while adding in timeless and trendy pieces to define your style.