Fall Jacket Trends at Garbarini 
We love to see what's trending each year and this season, the fall jacket trends are blowing us away. 
It's easy to throw on a jacket and walk out the door for function. But there's something beautiful that happens when function meets fashion, and these fall jacket trends are checking all the boxes this season.
We've chosen 6 of our favorite jackets for this season, and going to love these fall jacket trends.
Tie it, zip it, drape it like a cape … the fall jacket trends of 2019 are here to remind us that timeless cuts and fabrics are always on trend. You're going to love these 6 pieces that embody the fall jacket trends of 2019. 
ELIE TAHARI Kristy Cape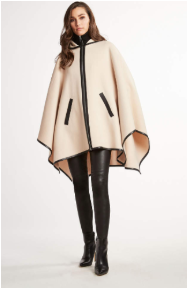 Who doesn't love a cape in fall?! This gorgeously draped piece by ELIE TAHARI exudes class and style. It's a perfect shape to throw over a chunky sweater or cashmere turtleneck and run out the door. This double face wool cape. with contrasting piping at the edges and on the front slit pockets is sophisticated yet playful. 
SAM. Freestyle Bomber by Andrew Marc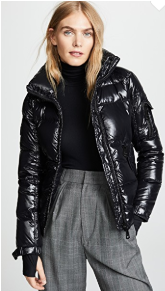 New favorite jacket alert! This cozy puffer from SAM. updates a traditional bomber silhouette with the brand's irresistible gloss. Let's face it, puffy jackets aren't the most flattering of garments, but oh how warm and functional they are! This fall jacket trend has been made classy by the designers at SAM. A classic puff with lining at the wrists with the beloved thumb holes, you can run from the office to the gym and home in this fall jacket and look great every step of the way. 
SOIA & KYO, ARYA Wool Coat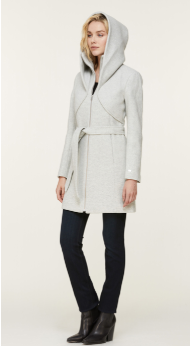 A dramatic hood, sophisticated wool, and winter white … what more could you want in a fall jacket? This gorgeous and timeless slim fit wool coat is a piece that will help you stand out in fall and winter. The clean lines and dramatic hood creates a silhouette that is sleek and streamlined. This is one of our favorite fall jacket trends that will keep you wrapped up all season.
NICOLE MILLER Camouflage Technometal Bomber
When is camo ever not in style? The beautiful thing about camo print and this fabric is that it essentially becomes a neutral! The silky fabric softens an otherwise strong print and makes it a bit classier and more feminine. This fall jacket trend is one we see come back year after year, so it's worth investing in a high-quality piece like this one to go back to every fall.
DIANE VON FURSTENBERG Elsa Wool-Blend Double-Breasted Coat
If you love animal print (who doesn't?!) then you're going to love this fall jacket trend from DVF. Not full animal print, but close enough  to get the look, this wool coat is everything! Made from virgin wool with silk lining, you can throw this on over a blouse or a blazer. The shoulders are lightly padded to create a classic shape that will spice up your entire wardrobe.
MACKAGE SYBIL Double-face Wool Coat with Sheepskin Winged Collar
Wrapping yourself in soft sheepskin is a luxury! When it's cold enough to wear both wool and sheepskin, well then you've got yourself a head turning combination. This double-face wool coat with a sheepskin winged collar is everything that Colorado dreams are made of. The true depiction of fashion and function, you can't go wrong with a classic like this. 
Splurging on a jacket that will last for many years to come, and is in a timeless style, is one of the best investments you can make for your closet. There's nothing quite like a jacket that can keep you warm while elevating your entire outfit.  
Come shopping at Garbarini to try these beauties on in person. Our esteemed stylists will help you to create your perfect look based on your favorite fall jacket trends.