How to Style a Sweater
With fall approaching, sweaters are coming out of storage and looking for a new lease on life. Whether you're looking for new ways to style a sweater you already own, or want to update your wardrobe with new fall sweaters, knowing how to style a sweater will be key to create a killer fall look.
When looking at how to style a sweater, there are tons of options and fall is the season of layers. We've selected some of our favorite sweaters and shown you ways we love to style a sweater.
Fall Sweaters
There is nothing better than being cozy and stylish in the fall. And with these gorgeous sweaters that can be styled in a multitude of ways, you'll never run out of options to stay warm and look cute!
Autumn Cashmere, Rib Mock Neck Halter
This gorgeous mock turtleneck halter sweater in black is they perfect layering piece for those fall days that aren't quite chilly enough for a full sweater, but still has the style of a fall sweater. This top can be worn solo, or under a coat or jacket for the perfect effortless fall look. And if you get too warm in all your gorgeous layers, you've got a quick way to cool down and still set trends and turn heads.
Brochu Walker,  The V-Neck Layered Pullover
There isn't much that's better than a sweater with a built-in layered top underneath. This sweater is pre-styled with a collared georgette shirting layer, giving the illusion of two pieces in one. Lightweight, cozy, and timeless, the Looker is a style you will reach for often. It can be easily styled with jeans and boots for a warmer fall day, and throw on a coat or jacket for those beautiful brisk fall nights. Fashion and function all in one timeless piece.
360 Cashmere, Kim Camo Sweater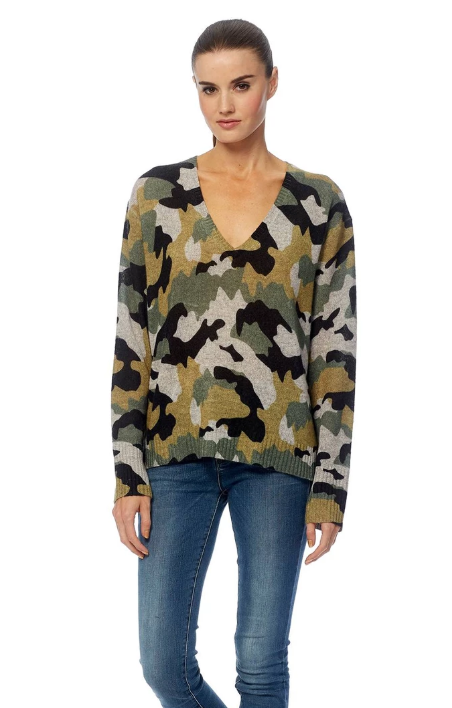 If you're wondering how to style a sweater that is as classic as pumpkin spice lattes in fall, this 306 Cashmere camo sweater is as versatile as it is cozy. Throw this classic print on with a bulky wool sweater and leather boots and you'll be sure to stay warm while feeling chic. Cashmere is one of our favorite materials for fall as it is incredibly comfortable and has an air of sophistication and class. You truly can't go wrong with this piece, no matter how you style it!
CLOSED, Bale Doubleface Wool Coat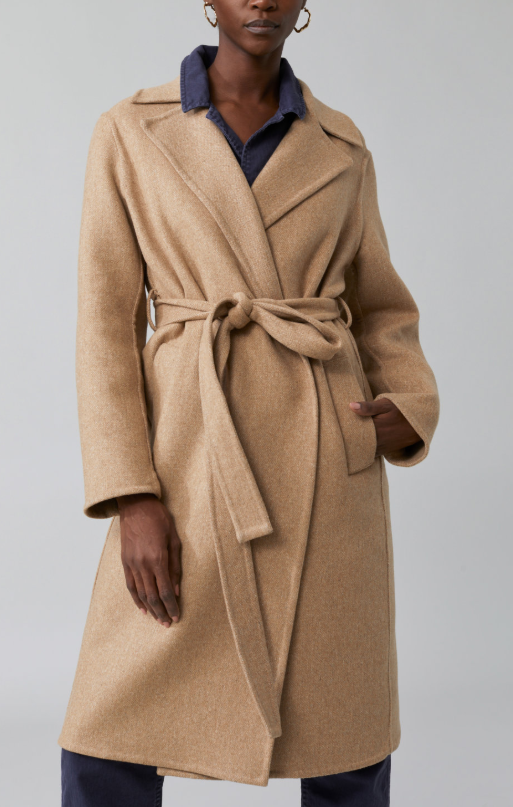 Wool coats are a staple of fall and winter layering, and this one by CLOSED is classy and cozy. There's nothing better than feeling like you can take over the world while walking down the street in a piece like this one. Easily layered with all out favorite sweater choices here, a wool coat is a must have in every woman's closet. This coat made of soft falling Italian double face with cashmere and a mottled look.
Pendelton, Women's Wool Taper Blanket Coat
The print that will forever be trendy and classic, a Pendelton coat is a timeless piece that will carry you through the decades in style and quality. This coat makes styling a sweater easy with the pop of color and print that compliments multiple colors and fabrics. With the warm wool and soft leather trimmed pockets, this relaxed fit coat is the perfect laying piece for a cold fall or winter day.
TRAVE, Constance Sweet Emotion Destroyed Jeans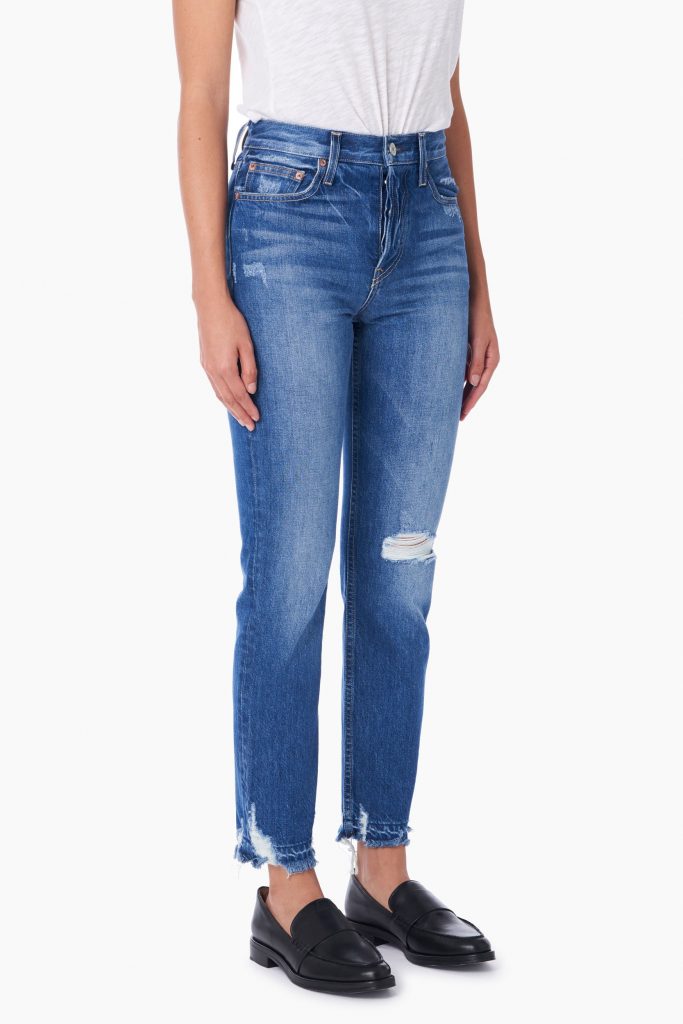 Oh how the perfect jeans make styling a sweater so easy. Every closet needs a pair of comfortable destroyed jeans and this style by TRAVE can turn your questions about how to style a sweater into an effortless look that can go from day to night. This reimagined vintage-style jean is balanced with a high waist and an ankle grazing length. Perfect with boots or flats, your sweater style will be amplified with the casual but classy pant.
Paloma Barceló, Roberta Brown Ankle Boot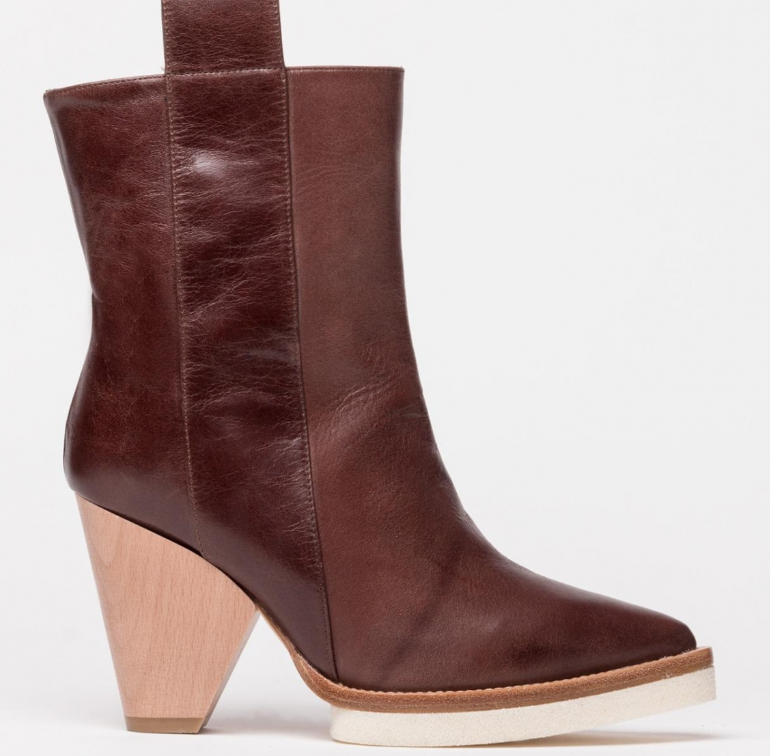 The ankle boot is a gift to the fashion world and the perfect addition for how to style a sweater. Not too tall that they will bunch of pants, and not so short that your ankles will get cold, this ankle boot by Paloma Barceló is the best fall boot. With brown leather and a wooden pyramid heel, this boot is casual enough for a daytime sweater style, but also classy enough for a night on the town. As comfortable as they are chic, this classic boot is a must!
We are always here to help!
If you need some assistance to update your wardrobe or want to browse current fall trends, our stylists at Garbarini in Cherry Creek are here to help! We'll show you how to style a sweater and the many options you have when it comes to cozy and chic layers. Come on in a shop with our professional stylists and high-end brands.