Garbarini Holiday Gift Guide
The holidays are in full swing! With Christmas just around the corner it's time for the last minute shopping to kick in. Typically, if you're last minute shopping you might have been having a little bit of a harder time trying to figure out what to get for the person you're buying for! If it's your wife, girlfriend, friend, sister, daughter, or anyone else, Garbarini has your back. We've compiled the perfect holiday gift guide to make your shopping easy. If the person your gifting is a previous shopper at Garbarini, we even keep their sizes and previous purchases in our data system so our stylists can you help you in store to pick out the best option.
Sweaters
Sweaters are some of our favorite items to suggest as gifts for this season. At Garbarini we have ample options available.  Below is our Brochu Walker Falon Sequin Sweater. This sweater is a super trendy piece that is perfect the season. It's suitable for a wide range of age demographics and will be in style far into the spring. It's cute to wear with jeans or leggings and would even be perfectly paired with a skirt! It's a great piece just in time for New Years.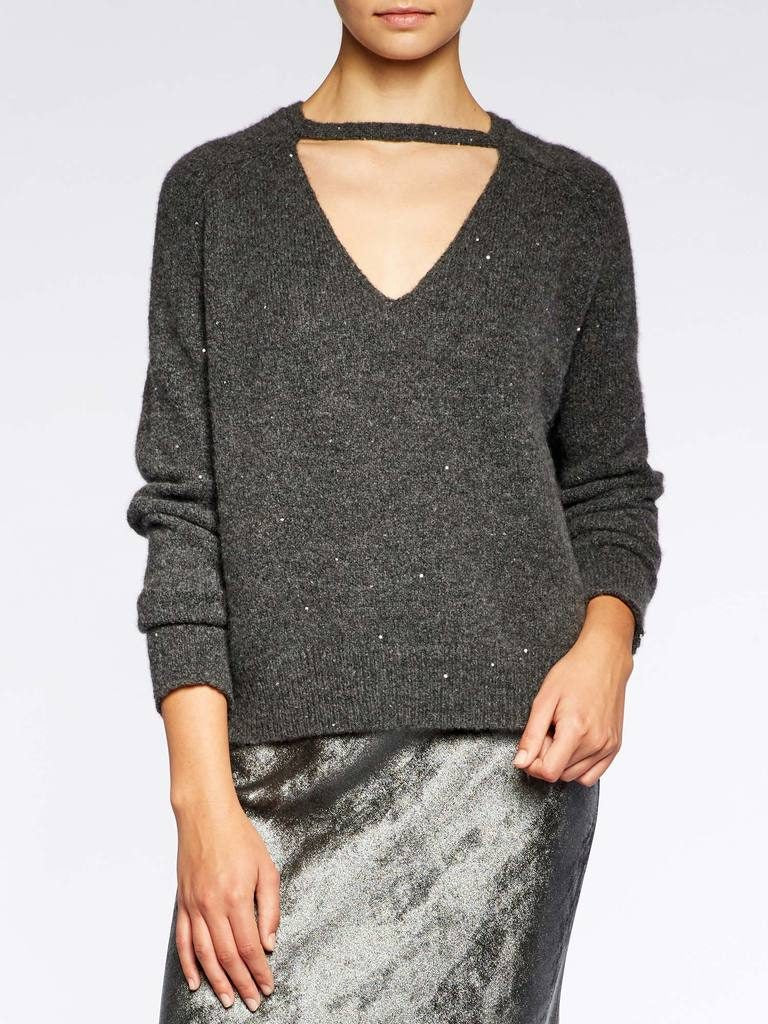 This vibrant Wooden Ships "Ansel V-neck
S
weater" is just the pop of color every woman needs this holiday season. Luckily, with this color your gift receiver will be able to wear this into multiple seasons and with minimal effort. It's warm and cozy and goes well with jeans, skirts and many other layering pieces. It's very eye catching but not too overwhelming.
Scarves
Scarves are the perfect addition to your Christmas gifts or make an excellent stocking stuffer!  At Garbarini we have many scarves to choose from but our stylist favorites this season are the Chan Luu Woven Cashmere Scarves
 and the Zadig & Voltaire Skull Scarves.
The Chan Luu Woven Cashmere Scarf is super soft and not to mention really cute and practical! It's the perfect addition to almost anything this holiday season.  Paired with a white shirt and some dark wash jeans, this accessory makes for an easy but stylish outfit. Some of the boots available at Garbarini would tie it all together as well! Definitely more of an essential piece that can go with many different outfits.
The Zadig & Voltaire Skull Scarf on the other hand, makes a little more of a statement. It's perfect for the girl with a little bit of a wild side! Or perhaps, the rock-n-roll lover in your life. Being black and white it is considered more of a "neutral" being that you can mix it with colorful pieces or mix up an all black outfit. This is, without doubt, one of our favorite items on the Garbarini Holiday Gift Guide this season!
Leather Jackets
Leather jackets have been, and will always be, part of a great closet! They are the perfect piece to wear when going out on these cold days in Colorado. As we all know, it can be hard to know what to wear when you want to be both cute and warm.... a leather jackets does just that! They're always a great gift and there are so many options to choose from. Some of our unique favorites are the Nour Hammour Ice Pink Rivet Leather Jacket and the Mauritius Christy Leather Jacket. If you're looking for more traditional styles we offer many more, as well as more contemporary designs by Theory and Vince.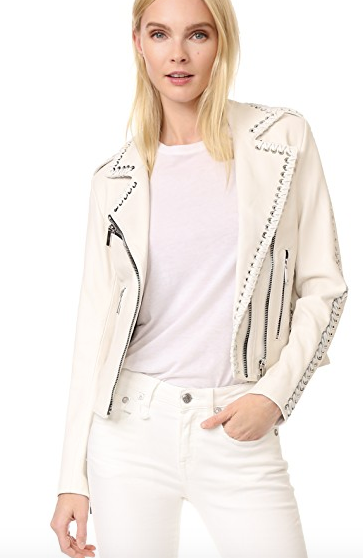 This Nour Hammour Ice Pink Rivet Leather Jacket isn't your traditional leather jacket. It adds a fun twist with all of it's detailing and ice pink color. It hits right at the hip or pant line creating an effortless symmetry. It can be easily paired with jeans or a dress to create a cute trendy outfit. We are loving it this season!
This is more of your traditional leather jacket with a vintage edge. We absolutely love it! It's a great jacket to top off any outfit and makes a wonderful gift. It's fashionable and and functional for those cold nights out on the town. We'll take them all please!
That wraps up our 2018 Garbarini Holiday Gift Guide! We hope you found our gift guide helpful! Just a reminder, we have all of these pieces in store at Garbarini in Cherry Creek and our stylists are on hand to help you pick out the right piece. Good luck with your shopping and Happy Holidays from Garbarini.
Be sure to check out the rest of our collection online
here
.