How to Wear Ankle Boots
Ankle boots are one of the more versatile shoe options we have as women – they can be worn with dresses, jeans, skirts – ultimately most outfits you have in our closet can work with ankle boots. Since there are so many ways to wear them, it's nice to have some good inspiration. We will outline
how to wear
ankle boots
in several different ways as well as the different types or styles of ankle boots we are drawn to, so you will be prepared no matter the situation.
Styling Ankle Boots
As we said, ankle boots in general are very versatile, but if you want to choose a style that truly does go with everything, opt for a neutral colored leather boot. A standard pair of brown, black or even nude leather boots will quickly become your go-to for just about any fall outfit. Keep them somewhat "plain" to ensure they truly can be paired with any piece of your wardrobe. Personally, we love classic ankle boots and mini skirts or dresses, especially this time of year when you are looking for a transitional outfit.
If you want to add a little bit of flare to your transitional outfit, opt for a cowboy inspired ankle boot to go with your long-sleeved mini dress. We are seeing a big western trend coming for fall, so this outfit will put you ahead of the curve as we enter the new season.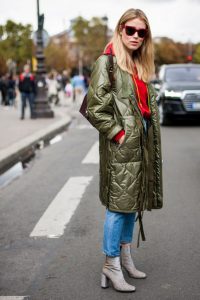 You might already have your go-to ankle boots and are wondering
how to wear ankle boots
that are a little more unexpected or fun. For example, a sassy pair of stiletto ankle boots can be difficult to style depending on the occasion. For an easy day to night outfit, style the stiletto boots with a simple pair of blue skinny jeans and a blouse.  If you are really going for the formal look pairing these with tights and a patent leather skirt will give the outfit just the edge it needs.
Another popular trend lately is contrasting colors. This sort of look can often scare the average woman as it has typically been seen as a very daring fashion choice, but since it has become more of a normal look it is much easier for any woman to adopt. Choose a bright colored ankle boot and pair it with a more neutral colored outfit – for example a bright red ankle boot could work with jeans and a white t-shirt. If colors aren't your thing, you can get the same sort of feel with a bright white boot and black dress or pants. Instead of contrasting colors another fun option is to go full monotone and pair your ankle boots with an outfit of the same color.
Pairing ankle boots with jeans may be the most popular outfit choice incorporating the versatile footwear. Depending on the style of ankle booties and the style of jeans, you can wear the boots tucked into jeans, let your jeans fall over top of them or you can even roll the jeans a couple times if neither of these options bodes well. Try out a few different styles to figure out what you feel best with.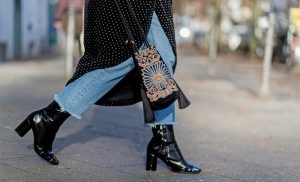 When thinking
how to style
ankle boots
, don't be afraid to get a little daring every once in a while. The boots can be worn so many ways and for so many different occasions. Whether you're looking for a standard pair of leather booties, or you want to try something a bit more unexpected, our professional stylists at Garbarini will help you find just what you're looking for. Not only will they help in picking out footwear but they will put together outfits for you so you don't have to worry about it all yourself. Come shop our extensive selection and check out one of the top boutiques in Denver, at 239 Detroit Street.