The key to
summer to fall outfits
is selecting transitional pieces that work both for warmer weather and can be layered or altered to work in cooler weather as well. You may even have some of these pieces already in your summer wardrobe and never realized they could work for fall outfits too! So, don't put all of those summer clothes away just yet…
Transitional Pieces for Summer or Fall 
Dresses are one of the key pieces in every woman's summer wardrobe and most of us prepare to pack them away in the back of the closet for the cold weather months. As we have seen on some top fashionistas, summer dresses can be paired and layered in unique ways to make them very appropriate for fall.
One popular example is pairing a patterned maxi or midi skirt with a nice trench. The coat provides contrast to the skirt, while also keeping you warm. Keep the trench open and unbuttoned in an effort not to overwhelm the skirt and so you can show the world your entire outfit. Another fun way to wear your summer dresses it to layer them over a long sleeve top. One of our personal favorite
summer to fall outfits
is a slip dress layered over a thin turtleneck knit top. Ensure the colors are either similar or complement each other nicely so as not to look too mismatched.
If you have a favorite flowy wrap dress, try wearing it over a pair of cropped jeans and flats. It is important to stick with skinny or straight legged cropped denim in this instance, to create a good balance with the dress.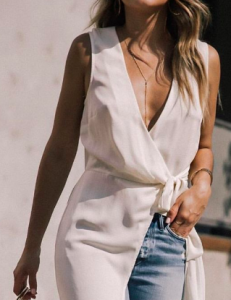 As you can likely tell the trend here, nearly all of these
summer to fall outfits
have to deal with some sort of layering. Another fun layering trick is to utilize those cropped knit tops from summer and wear them over a button-down shirt – you could even layer a cropped sweater over a shirt dress for a similar look. As long as the button-down or shirt dress isn't too large or bulky, the cropped top should fit just fine over it.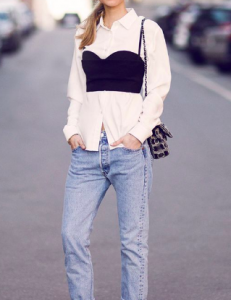 There are certain transitional pieces that are just that, easy to transition from summer to fall without necessarily repurposing them. A good example is summer denim, whether that be denim shorts paired with sweaters or wide leg jeans paired with a long sleeve blouse. Before you break out your dark skinny jeans or leather pants, utilize the bottoms that you already have at the front of your closet while you can.
When thinking about
summer to fall outfits,
choose transitional pieces that don't scream summer or fall and can easily fit with this in-between time. You can find plenty of these transitional pieces as well as outfits to incorporate into your upcoming fall and winter wardrobes at Garbarini. Our expert stylists will help you pick out things that fit your style, body type and budget. Come shop our extensive selection and check out one of the top boutiques in Denver, at 239 Detroit Street.